Discover a near perfect fit for your old APAC footprint or R22 phase out
Your existing APAC rooftop unit may soon need to be replaced either because it's reaching the end of its operating life or because of the impending R22 phase out. The question is: how can you quickly and easily replace these popular units with an equally dependable system, which is far more cost-efficient?
The answer is APAC's commercial and industrial range which includes models, from 12kW to 230kW capacity. We manufacture a range of units that are a near perfect fit for most APAC units capacity, footprint, ductwork, controls and power supply. Take a look at our cross reference chart, which gives a direct replacement equivalent for most existing APAC models in our downloadable product brochure. Furthermore, APAC is competitively priced, and in most packaged unit cases, blanking plates can be supplied with the new unit to match the old APAC unit duct connections. Old units can be completely replaced by new ones in under 2 hours, saving valuable time on site.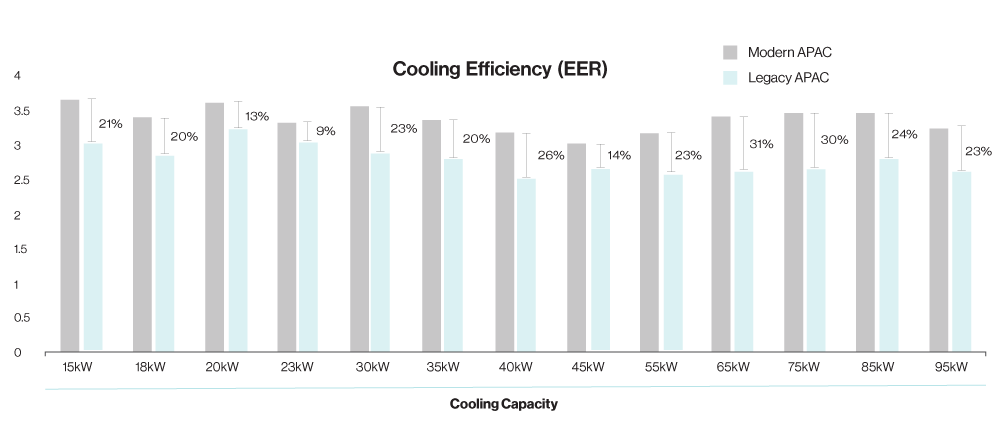 There are several advantages to replacing your outdated and aging air conditioning units, including:


Low installation costs
A perfect match to the APAC unit size, footprint, ductwork, power & controls avoiding costly modifications.

Low noise
Fans slow down during low ambient for less noise, with up to 20% less sound.

Reduced energy costs
High efficiency ratings with up to 31% energy savings compared to the existing APAC equivalent unit.

Designed & Made in Aus
Engineered and built to operate in Australia's
toughest conditions.

Low cost of ownership
High efficiency direct drive fans ensure low ongoing maintenance costs.

Fastest Changeovers
A perfect match to the APAC unit size, footprint, ductwork, mains power and controls – avoiding costly modifications.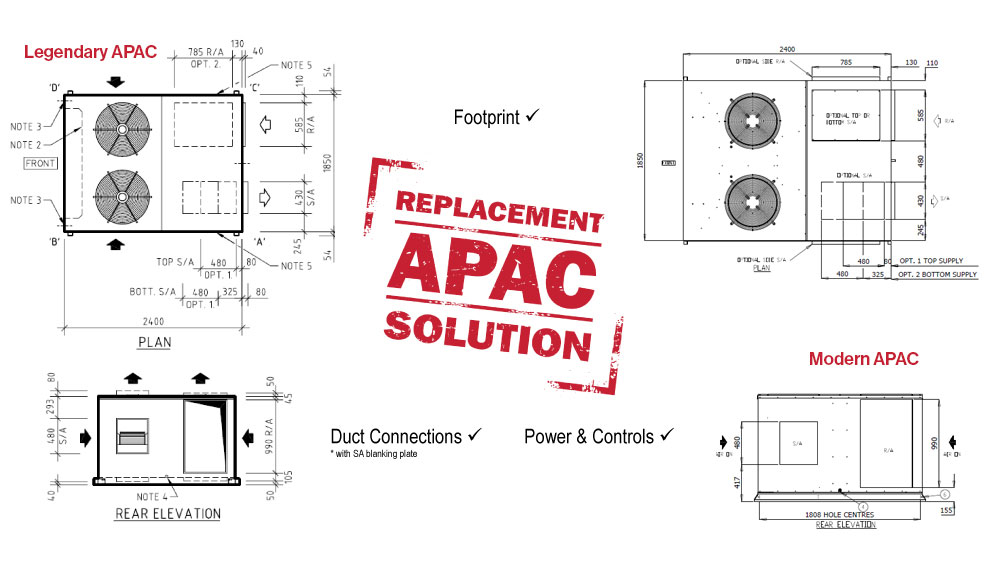 R22 Phase Out
With the ongoing reduction of R22 availability, it makes sense to replace your old unit with a more cost effective and sustainable model. R22 is a hydrofluorocarbon, an ozone depleting substance which is being phased out with supply to eventually cease in the near future. As a result, obtaining the refrigerant for equipment maintenance is becoming increasingly difficult and costly.
Approximately 30% of all working air conditioners and refrigeration systems use R22 as their working fluid. The difficulties in repairing such equipment include:
Aged equipment leads to more maintenance issues and failures.
Scarcity means purchasing refills are expensive.
Increased scarcity of parts, which makes maintenance difficult and costly.
Unavailability of the refrigerant in some areas, particularly remote locations could result in an inability to repair equipment.
Business disruption due to failed equipment which cannot be repaired quickly, if at all.
Prepare for your unit's R22 phase out and impending use by date. APAC can assess your current unit and can provide a solution for a more efficient and environmentally friendly unit.
Contact Us
Plan ahead and replace your old, outdated and phased out unit before it becomes an expense or stops working altogether. When it comes time to replace your old APAC unit, contact APAC on 1300 078 028 or submit an online enquiry to find out more about our innovative commercial and industrial product solutions.
The below table indicates the reduced energy use of the new APAC models.